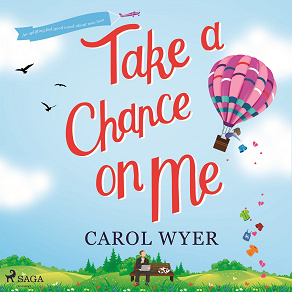 Take a Chance On Me
Charlie's marriage is over - but that does not mean that her life is. It is just down to her besty Mercedes to convince her of that!

Mercedes draws up the perfect bucket list and begins a one-woman mission to lift Charlie's spirits.

Before long, Charlie is belly-dancing, bungee-jumping and much more...including rekindling her love life with handsome journalist Jake.

But she is having so much fun as the bucket list grows - and has questions about Jake.

Should she stick to the single life of adventure or dive into a serious relationship with Jake?

This funny and uplifting book is ideal for fans of Poppy Dolan, Mhairi Mcfarlane and Heidi Swain.

What everyone's saying about Take a Chance on Me:

'The first few pages of the book gave me goosebumps and made me gasp ... powerful is an understatement if I'm honest, the whole storyline had such a hold on me ... 'Take a Chance on Me' is now in my Top 5 favourite books, ever. 5 stars' The Writing Garnet

'You will laugh and possibly cry ...a lovely novel that was such a pleasure to read.' What's Better than Books

'This really is a feel good funalicious book which had me smiling throughout.' The Reading Shed

This book was previously published as Three Little Birds.

Amazon UK Top 100 - Over 16,000 copies sold

Carol Wyer garnered a loyal following as an author of romantic comedies, and won The People's Book Prize Award for non-fiction (2015). In 2017 she stepped from comedy to the 'dark side' and embarked on a series of thrillers, featuring the popular DI Robyn Carter, which earned her recognition as a crime writer. The Staffordshire-based writer now has more crime novels in the pipeline, although she can still sometimes be found performing her stand-up comedy routine Laugh While You Still Have Teeth.
Listen to sample
---