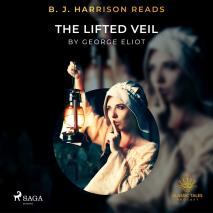 Isbn:
978-87-2657-415-9
Publisher:
Saga Egmont
Category:
Crime & Mystery
Historic facsimile
Accessible since:
November 2020
Narrator:
B. J. Harrison
Length: 2 hours 4 minutes
---
B. J. Harrison Reads The Lifted Veil
Latimer is convinced that he has a special power. According to him, he can see into the future and he can also read people's mind. Actually everybody's but one; his brother's wife Bertha's mind remains closed to him. Although he marries her after his brother's death, he still cannot manage to read her thoughts. What he realizes however is that Bertha is manipulative and her heart is not pure. Bertha's maid has something she wants to share with Latimer, but will she manage to relate her story in time? Find out what the future holds for Latimer in "The Lifted Veil".

George Eliot was an English writer who lived in the period 1819 – 1880. She is best known as a novelist and poet, and her works often depict the Victorian era and the rural society. George Eliot wanted to describe the life of ordinary people. She was fascinated by the simplicity of country life and wanted to represent it realistically. Some of her works were also politically orientated as she wanted to draw attention to the social outsiders and people from small towns. "Adam Bede", "The Mill on the Floss" and "Felix Holt, the Radical" are only a small part of the huge literary legacy she left behind.

B. J. Harrison started his Classic Tales Podcast back in 2007, wanting to breathe new life into classic stories. He masterfully plays with a wide array of voices and accents and has since then produced over 500 audiobooks. Now in collaboration with SAGA Egmont, his engaging narration of these famous classics is available to readers everywhere.
Listen to sample
---