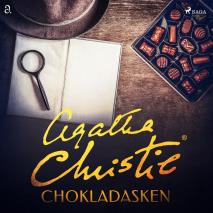 Isbn:
978-87-1192-663-5
Publisher:
Saga Egmont
Category:
Crime & Mystery
Accessible since:
September 2019
Narrator:
Hans Bergqvist
Length: 40 minutes
---
Chokladasken
En dag frågar Hastings sin vän Hercule Poirot om han någonsin misslyckats med ett fall. Poirot berättar då om mordet på en kontroversiell fransk politiker där den enda ledtråden var en chokladask. Den mördades förtvivlade älskarinna bönar och ber honom att lösa mysteriet. Men frågan är om han lyckas eller inte, speciellt när offrets mamma lägger sig i gåtan...
Denna novell ingår i samlingen "Poirots problem".
Agatha Christie föddes 1890 och dog 1976. Hon var en brittisk deckarförfattare och också världens bästsäljande författare efter Shakespeare med över 4 miljarder böcker sålda på engelska och andra språk. Mest känd är hon för detektiven Hercule Poirot. Tillsammans med Arther Conan Doyle har hon format deckargenren mest.

---
"Chokladasken", ur novellsamlingen "Åklagarens vittne" © 1990 Agatha Christie Limited. All rights reserved.
"The Chocolate Box", from the collection of short stories entitled "Poirot's Early Cases" © 1974 Agatha Christie Limited. All rights reserved.
AGATHA CHRISTIE © POIROT © are registered trademarks of Agatha Christie Limited in the UK and/or elsewhere. All rights reserved.
Listen to sample
---