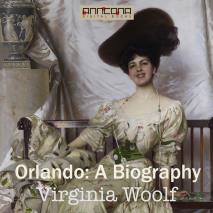 Isbn:
978-91-7605-667-7
Publisher:
Anncona Media
Category:
Novels
In english
Accessible since:
January 2016
Narrator:
Cori Samuel
Length: 8 hours 43 minutes
---
Orlando: A Biography
Orlando: A Biography is a novel by Virginia Woolf, first published in 1928.
A high-spirited romp inspired by the tumultuous family history of Woolf's partner, the aristocratic poet and novelist Vita Sackville-West, it is arguably one of Woolf's most popular and accessible novels: a history of English literature in satiric form.
The book describes the adventures of a poet who changes sex from man to woman and lives for centuries, meeting the key figures of English literary history. Considered a feminist classic, the book has been written about extensively by scholars of women's writing and gender and transgender studies.
TRT (Total Running Time): 8 hours, 44 min.
Adeline Virginia Woolf (1882-1941) was an English author, essayist, publisher, and writer of short stories, regarded as one of the foremost modernist literary figures of the twentieth century.
During the interwar period, Woolf was a significant figure in London literary society and a member of the Bloomsbury Group.
Her most famous works include the novels Mrs. Dalloway (1925), To the Lighthouse (1927), and Orlando (1928), and the book-length essay A Room of One's Own (1929), with its famous dictum, "A woman must have money and a room of her own if she is to write fiction."
Listen to sample
---